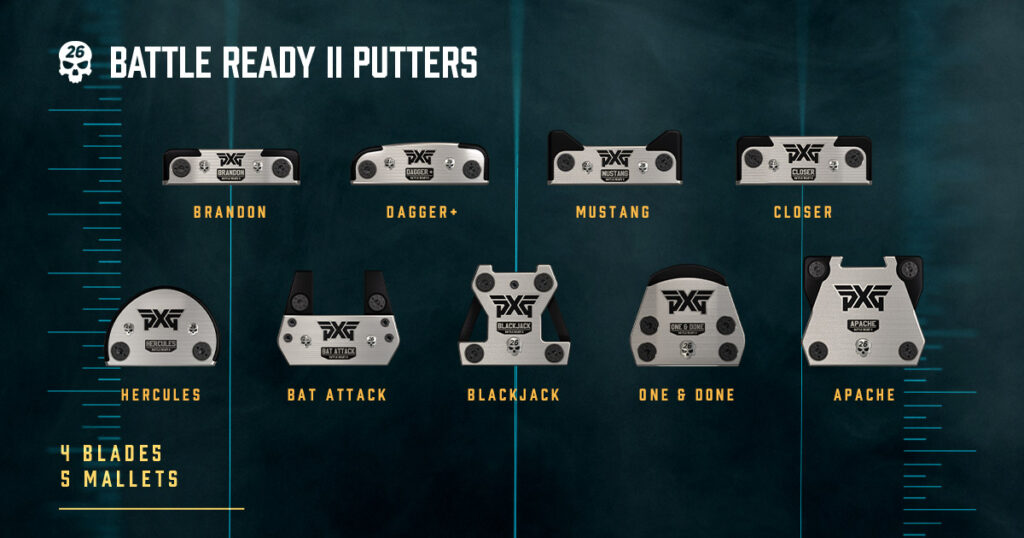 How can you find the perfect putter that matches your golf game? While there are many different types of putters, finding the right one all comes down to knowing your personal tastes and style preferences, as well as understanding the technology and adjustability available to enhance your putting stroke.
To help you decide which one is best for you, we've put together this putter buying guide with all the information you need to choose a putter that's right for your game.
CHOOSING THE RIGHT PUTTER
Choosing a putter that is right for your game can be tricky. Golfers of all levels will want to make sure they choose a putter that gives them confidence at address and makes putting feel as natural as possible. For the club we use the most, statistics show that most golfers have never been professionally fitted for a putter. It's time to level up on the green with a professionally fitted PXG putter, optimized for your unique stroke.
So, how can you find a putter that is going to help you sink those crucial four-footers? Here are some tips that will help you find that perfect match:


PUTTER HEAD TYPE
The first thing you need to do is figure out which type of putter will work best for your game. Blade and mallet putters are the two most common putter styles. How do I know which one fits my game?
Mallet putters generally feature a large clubhead profile for added stability and forgiveness. Blade-style putters present a more straightforward design often favored by golf purists and lower handicap golfers. Read on below to see the various styles of mallet and blade putters available from PXG.


SHAFT LENGTH
Spine angle and hand position in a putting stroke are heavily influenced by the length of the putter. A proper putter shaft length will fit comfortably in the hands at setup and allow for a natural and free flowing putting stroke. PXG's standard putter length is 34".


GRIP
PXG's new performance putter grips were designed to meet a variety of preferences and styles to give golfers the edge they need on the green.

Made by stitching a polyurethane wrap around an injection molded EVA foam core, these grips are lightweight, allowing us to create a variety of shapes and sizes. The polyurethane wrap also has an "X" pattern for improved texture and feel.
When it comes to putting, every player has their own grip preferences. Let's help you find your perfect partner and take a closer look at the new PXG grip line up!


LOFT & LIE
Why do loft and lie matter when it comes to a putter set up? Both of these elements impact launch angle and roll characteristics. To learn more, take a look at our engineer designed Battle Ready fitting tool, complete with handy videos to provide a visual walk through on these important elements.


HOSEL
PXG's 0211 Putters have fixed hosel options that vary per head type. Battle Ready II Putters are available to customize with five hosel options.
Plumber's Neck – for players who slightly rotate the clubhead
Heel Shafted – for players who over rotate the clubhead
Double Bend – for players who tend to push the ball
Armlock – for players who desire greater control and stability with their putting stroke
Center Shafted – for players who tend to push the ball


WEIGHT & BALANCE
Battle Ready II Putters come standard with a stock head weight that's dependent upon the model and hosel you choose. By adding a PXG Weight Kit to your order, you may adjust the head weight of your putter down by at least -15g or up by at least +20g.
0211 Putters have been pre-optimized for weight and balance by our PXG Engineers.
PXG putters are designed with a player's specific game in mind. Because PXG clubs are custom-built, every club is different and can be tailored to your golfing abilities. Now that you know what to look out for – let us introduce you to our lineup of milled and cast putters to help you find your perfect match.


BATTLE READY II Versus 0211 PUTTERS
Battle Ready II Putters are crafted from aerospace-grade aluminum and high-density tungsten. Unique to the Battle Ready lineup, PXG Engineers introduced high-density tungsten inserts. The inserts are strategically positioned in every putter to enhance stability and boost MOI.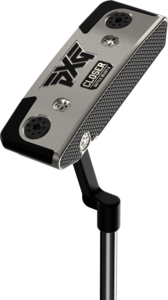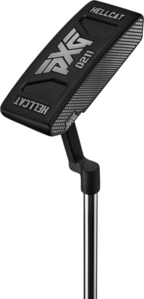 Our 0211 lineup includes five putters: V-42, Bayonet, Hellcat, Clydesdale, and Lightning. Each 0211 Putter features PXG's bold Runway Reticle™ alignment aid and patented Pyramid Face Pattern technology for exceptional accuracy and consistency with every putt, as well as an outstanding sound and feel.
As our flagship option, Battle Ready Putters are fully optimized and packed with patented technology and premium materials. 0211 Putters come with three non-interchangeable hosel types and a price tag that will bring a smile to your face.
PXG putters are available to both left- and right-handed golfers.


PXG MALLET PUTTERS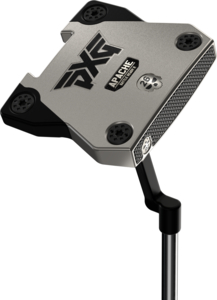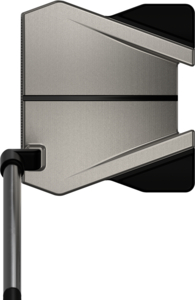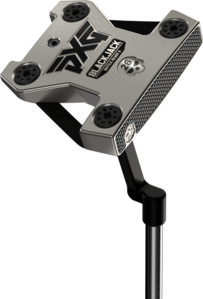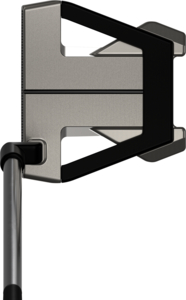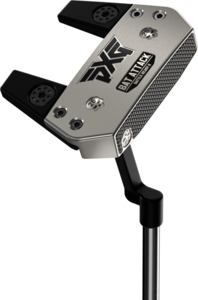 BATTLE READY II APACHE
A high MOI mallet-style putter, the Battle Ready Blackbird features the deepest center of gravity (CG) location, approximately 0.200" further back than in the similar sized Blackjack, One & Done, and Gunboat, for killer stability on every stroke.
BATTLE READY II BLACKJACK
The Blackjack is a bold, high MOI mallet-style putter with exceptional stability, forgiveness and clean alignment features letting you double down your bets as you sink more putts.
BATTLE READY II BAT ATTACK
The Bat Attack is a modified mallet putter with long contrasting weighted heel-toe wings designed for easy alignment to the target. This modified mallet offers the MOI and center of gravity benefits of a mallet style putter in a visually smaller package to inspire confidence on the green.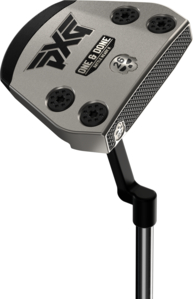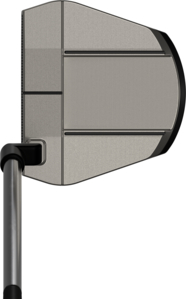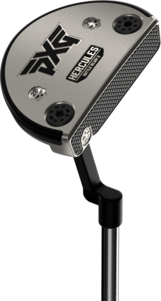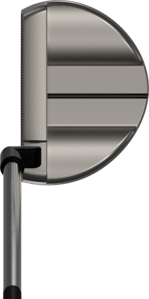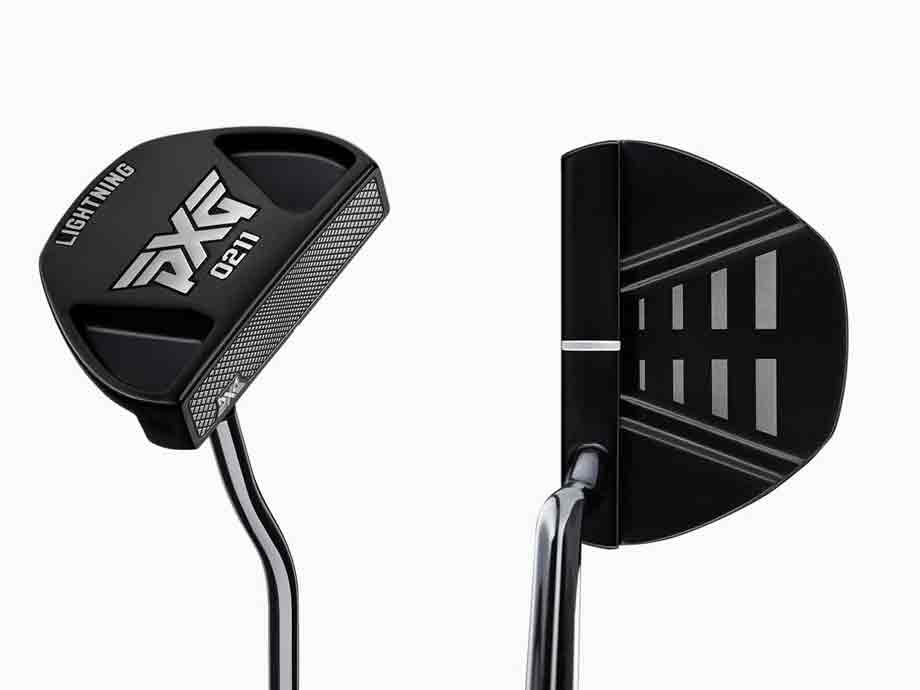 BATTLE II READY ONE & DONE
The One & Done is a mallet-style putter with newly updated prominent alignment aids to promote a more confidence-inspiring stroke on the greens. The ultra-deep center of gravity and adjustable sole weights optimize MOI and ensure stability and consistency with every putt.
BATTLE READY II HERCULES
The long sightline and smooth ballasts of the Hercules putter allow for easy alignment to sink more putts. PXG's polymer filled hollow body technology elevates this traditionally shaped mid-mallet into a high MOI offering in Battle Ready II.
0211 LIGHTNING
The 0211 Lightning Putter delivers extreme control for a stabilized approach on the green. The largest of the 0211 Putters, Lightning features a double bend hosel, PXG's bold Runway Reticle alignment aid, and flagship Pyramid Face Pattern technology for outstanding accuracy and consistency with every putt.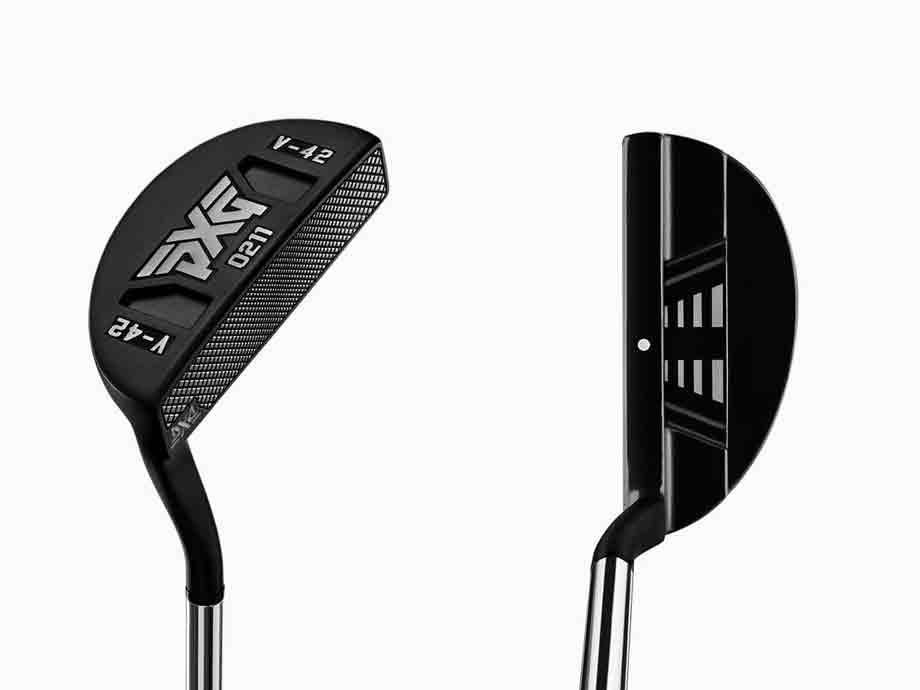 The 0211 V-42 Putter is a heel shafted, mid-mallet that minimizes distraction and delivers critical precision. Complete with PXG's bold Runway Reticle alignment aid, this crescent-shaped putter also features a top rail dot and slightly flared dual-step geometry for exceptionally easy aim. V-42 also boasts PXG's flagship Pyramid Face Pattern technology for maximum consistency across the face.
PXG BLADE PUTTERS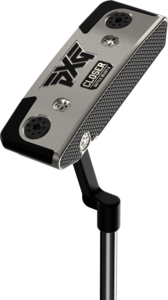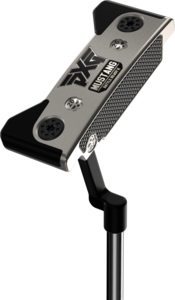 BATTLE READY II CLOSER
The Closer is a sleek, wide blade-style putter that has been redesigned based off tour player feedback. The new design offers a longer heel/toe length and a slightly thinner width front/back. The ballasts have also been reshaped to be more pronounced and deliver exceptional stability.
BATTLE READY II DAGGER+ 
The Dagger+ is a traditionalist blade-style putter with a modern flair and zero offset. With hollow body construction combined with S COR™, PXG's lightweight polymer filling, this updated version of PXG's Dagger+ putter offers increased MOI along with an excellent sound and feel. Dagger+ is available in two fixed hosel options – heel shafted, and center shafted.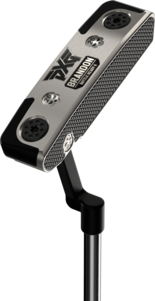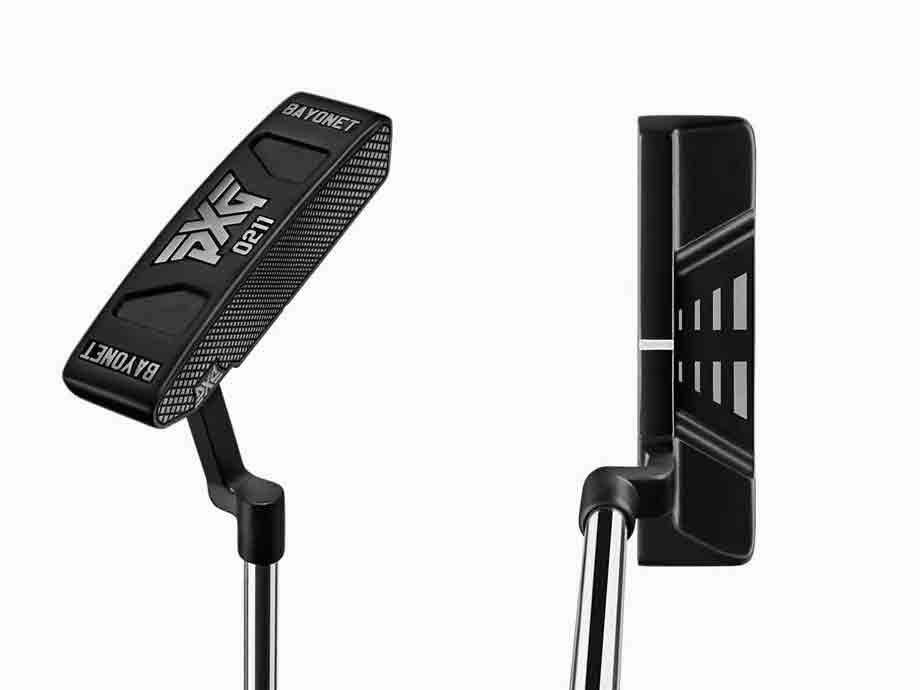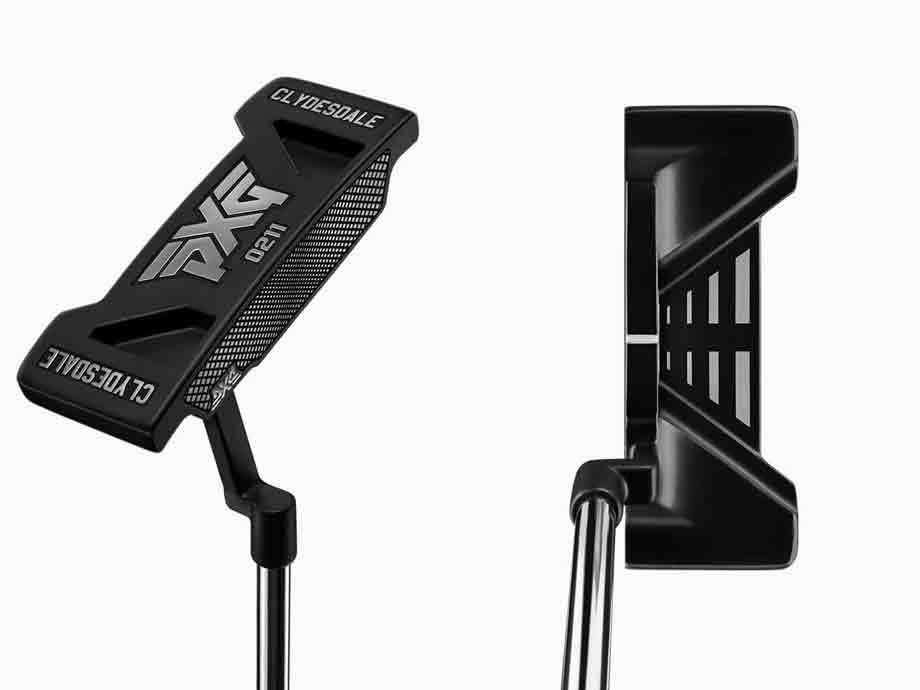 0211 BAYONET
A traditionally shaped blade and one of the lightest putters in the 0211 lineup, Bayonet is designed to deliver calibrated control. A high MOI blade with a flared cavity and a distinctive Runway Reticle alignment aid, this putter offers impressive forgiveness and aim. The Bayonet also features PXG's flagship Pyramid Face Pattern technology to help golfers sink more putts.
0211 CLYDESDALE
The longest of all the 0211 Putters from heel-to-toe, Clydesdale offers an extremely high MOI for a blade-style putter. Combined with a plumber's neck hosel, PXG's bold Runway Reticle alignment aid and flagship Pyramid Face Pattern technology, Clydesdale helps deliver optimum horsepower for outstanding control and accuracy.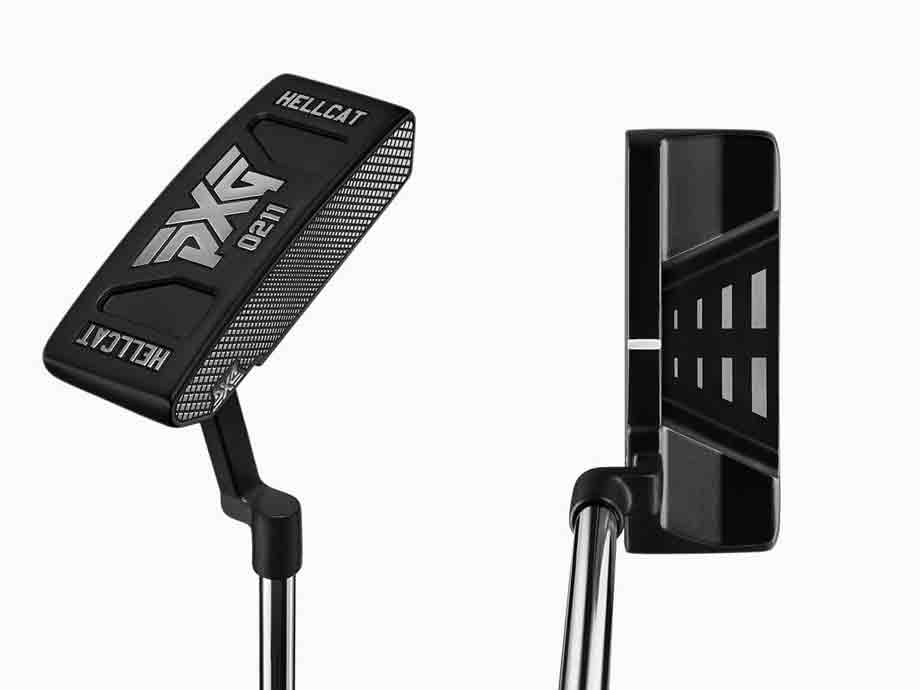 0211 HELLCAT
A smooth glider, the 0211 Hellcat Putter is a heavy blade built for consistent control and ball speed. This putter appeals to golfers who prefer a traditional shape and heavier feel. Hellcat features PXG's bold Runway Reticle alignment aid and flagship Pyramid Face Pattern technology for outstanding accuracy at any distance.
GET FITTED FOR THE PERFECT PUTTER!
At PXG our expert fitters are uniquely qualified to help customers find a putter that improves their game. You can set up an appointment with one of PXG's Fitting Specialist here or call our PXG Fitting Department now at 1.844.FIT.4PXG (1.844.348.4794). Ready to take matters into your own hands?