Have you ever been out on your round desperately trying to hit bombs off the tee box with your woods only to have tough weather conditions and tight fairways make it almost impossible to do so? Or maybe you prefer the sound, look, and feel of an iron when you address the ball. Well troops, you're in luck – this one's for you. Enter the all new PXG 0311 X Driving Iron.
WHAT IS A DRIVING IRON?
If you're new to the game of golf, you might be wondering what a driving iron is. A driving iron, sometimes referred to as a utility iron, is a type of long iron (think 4-iron and below) engineered for adverse course conditions, links-style courses, and players who struggle to hit their woods 'straight down the middle.' Additionally, while you can hit this particular golf club from the fairway, it's more-so meant to provide an alternative to hybrids, fairway woods, and standard long irons off the tee.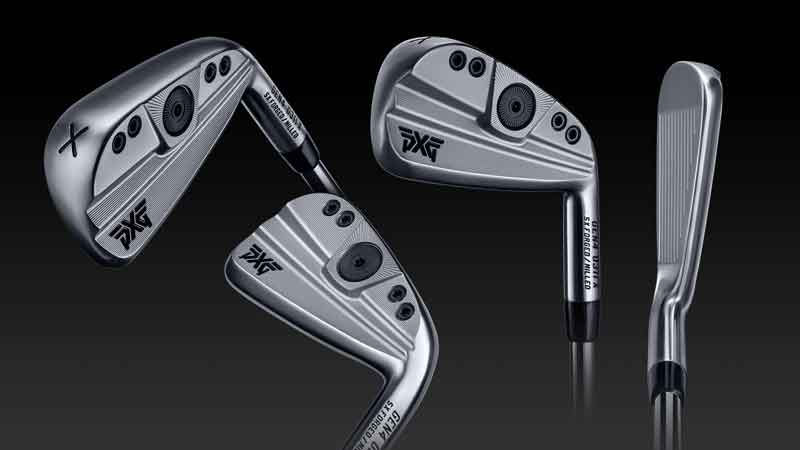 As a rule of thumb, these types of clubs allow players to hit the ball higher and farther than regular or traditional long irons, but their trajectory is lower than most fairway woods and hybrids. As a result, the more penetrating ball flight is less impacted by windy conditions while a shallower landing angle means that the ball tends to roll out more, delivering greater total yardage.
WHAT'S THE DIFFERENCE BETWEEN DRIVING IRONS AND LONG IRONS?
The main difference is offset. Many players want a larger head for a driving iron to increase forgiveness. Traditional game improvement long irons are designed with more offset to help players hit it higher and from a variety of lies. Driving irons are designed with a wider sole and longer blade length for improved forgiveness but with minimal offset for a preferred look at address and a more penetrating ball flight.
IS THERE A DIFFERENCE BETWEEN DRIVING IRONS AND HYBRID GOLF CLUBS?
Most players know and love hybrid golf cubs – their popularity has grown not only among amateur golfers, but we're seeing hybrids on PGA and LPGA Tours. These clubs are designed to combine the best of both worlds, engineered, in part, for people who struggle hitting their longer irons or fairway woods consistently. Hybrid golf clubs tend to get you increased distance so you can land those greens that were once out of reach in two. If you are newer to the game or have a slower swing speed and are looking for a club to help improve your game, hybrid golf clubs may be the perfect option for you!
THE BIGGEST DIFFERENCE BETWEEN DRIVING IRONS AND HYBRIDS
Hybrid golf clubs are designed to replace the long irons in your bag, while driving irons are designed as an addition to your standard set. Driving irons have a lower launch angle and land angle than hybrids which leads to more roll out.
DRIVING IRON OR HYBRID – WHAT'S RIGHT FOR YOUR GAME?
If you're used to more traditional golf club set ups, have a faster swing speed, and consistent ball striking, driving irons may be perfect you. However, if you have a slower swing speed and trouble getting good height with your ball flight, hybrids may be the better option for you. Ultimately, the best way to know which clubs to game is to get fitted. Golf club fittings utilize the latest and greatest technology (such as Trackman Technology) to ensure you have the right setup for your style of play, handicap, and ability.
ABOUT THE TECHNOLOGY IN PXG 0311 X DRIVING IRONS
PXG driving irons are the perfect weapon for the player who wants a driving iron that is high launching, low spinning, geared for fast ball speeds. Our engineers have crafted our club to be optimized for superior distance off the tee without sacrificing accuracy or control. We poured everything into these clubs from our XCOR Technology to our Precision Weighting Technology – these clubs have it all. If you're looking for optimum forgiveness with tight dispersion along with outstanding sound and feel, the new PXG driving irons are perfect for your game.
| | | | | | |
| --- | --- | --- | --- | --- | --- |
| Club | Loft | Lie | Length (Inches) | Bounce | Offset (Inches) |
| X | 18° | 60° | 40⅛ | 2° | 0.100 |
EXPERIENCE IT FOR YOURSELF! TEST OUT OUR ALL NEW PXG 0311 X DRIVING IRON TODAY AT A PXG FITTING LOCATION NEAR YOU!
Now that you know more about our driving irons, why not give them a shot for yourself? Come see and feel the difference a driving iron can make to your golf game today through a comprehensive fitting experience.
Have questions? Contact our Player Support team today! They're on standby to help you pick the right stick! Give us a call at 1.844.PLAY.PXG. Whether you put it in the bag or not, our fitters are ready online, in store or over the phone to help you change your game and have more fun out on the course.
So, what are you waiting for? Get fitted today! You'll be glad you did.