PXG Provides Support for Veteran-led Disaster Relief Organization Team Rubicon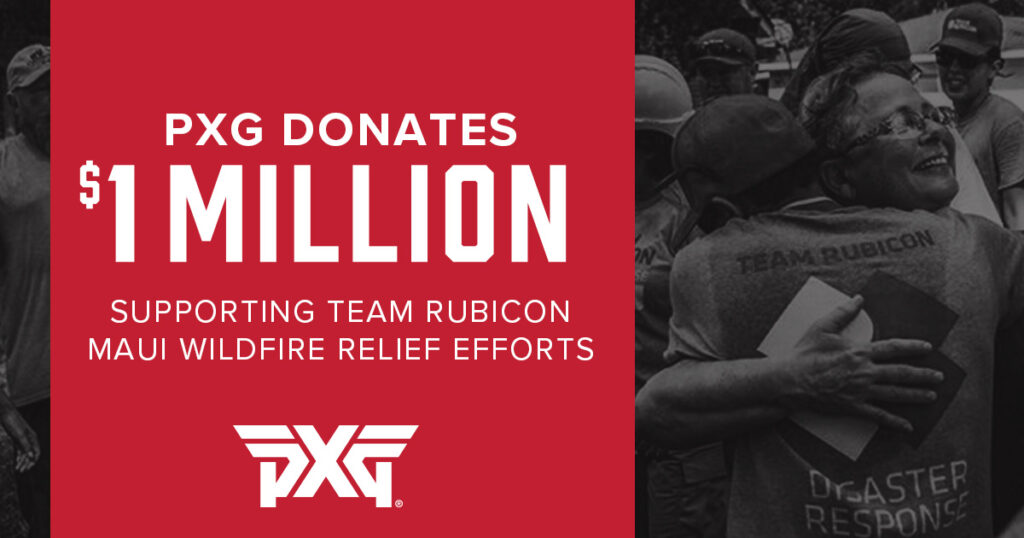 Scottsdale, AZ (August 11, 2023) – PXG, a company dedicated to developing the world's finest golf equipment and apparel, today announced a one-million-dollar donation to Team Rubicon, a veteran-led disaster relief organization. The funds will support Team Rubicon's ability to provide immediate support in Maui, Hawaii.

By pairing the skills and experiences of military veterans with first responders, medical professionals, and technology solutions, the organization mobilizes highly trained teams to provide the greatest impact possible.


"Team Rubicon quickly coordinates and deploys trained military veterans, first responders, and civilians as volunteers for disaster relief efforts," PXG Founder and CEO Bob Parsons stated. "We have witnessed the dedicated volunteers who make up its ranks fall in to embrace and empower devastated communities. Today, we look to bolster their efforts in Maui and help their boots on the ground to do what they do best."


"In the past ten years, Team Rubicon has built a dedicated team of over 1,000 Greyshirt volunteer leaders in Hawaii. Currently, we have boots on the ground and are in close communication with local authorities and emergency managers to offer our immediate help in shelter set ups, food distribution, donation management and distribution, and staff for the local Emergency Operation Center," said Art delaCruz, Team Rubicon CEO. "We are extremely grateful to our partners at PXG for their unwavering commitment to supporting those in need."


Over the years, Team Rubicon has supported the communities of Hawaii with fire mitigation projects and operations on several of the islands. In May, volunteers conducted a wildfire mitigation operation in Honolulu at the request of Hawaii Firewise. Team Rubicon last supported the island of Maui with a storm response in December 2021.


This isn't the first time that PXG has supported Team Rubicon. Following Hurricane Harvey in 2017, PXG's commitment of one million dollars helped fuel Team Rubicon's immediate response. The donation also helped kick-off a pilot "Rebuild" program committed to rebuilding 100 homes in the Houston area. Similarly, PXG's million-dollar donation for Hurricane Irma relief funded much of the response.

A committed partner, PXG also supported Hurricane Florence relief efforts and, through an innovative "Essential Face Mask" campaign led by President and Executive Creative Director of PXG Apparel Renee Parsons, helped raise awareness of Team Rubicon's Neighbors Helping Neighbors COVID-19 initiative.


PXG supported relief efforts in Louisiana in 2020. Within hours of Hurricane Laura making landfall, Team Rubicon was on the ground working to clear roadways to help first responders. In the hours and days following, Team Rubicon deployed more Greyshirts to Louisiana and Texas, ultimately resulting in over 800 volunteer deployments between the two states during their response work. In the wake of the storm PXG Founder and CEO Bob Parsons traveled to Louisiana to see Team Rubicon's efforts in action and evaluate the devastation in-person. As a result of the visit, PXG and The Bob & Renee Parsons Foundation donated two-million dollars to support the needs of the Louisiana community.


For more information about PXG visit, www.PXG.com.


To learn more about Team Rubicon and find out how you can help visit, www.TeamRubiconUSA.org.


ABOUT PARSONS XTREME GOLF
Founded by entrepreneur and self-proclaimed golf nut Bob Parsons, PXG embodies his belief that every new product – from golf clubs to sport fashion apparel – should be markedly better. Every innovation should noticeably improve your performance. And every moment of impact should elevate your enjoyment.


Today, PXG offers a complete lineup of right- and left-handed golf clubs, including drivers, fairway woods, hybrids, irons, wedges, and putters, as well as high-performance, sport fashion apparel, and accessories.


PXG's professional staff includes Joel Dahmen, Zach Johnson, Mason Andersen, Paul Barjon, Eric Cole, Kevin Dougherty, Nicolas Echavarria, Clay Feagler, Patrick Fishburn, Michael Gligic, Grant Hirschman, Bo Hoag, Michael Johnson, Jake Knapp, KK Limbhaust, David Lipsky, Luke List, Justin Lower, Ryan McCormick, Henrik Norlander, Augusto Nunez, Garrett Reband, Seth Reeves, Shad Tuten, Dylan Wu, Celine Boutier, Austin Ernst, Mina Harigae, Yu-Sang Hou, Megan Khang, Christina Kim, Gina Kim, Katherine Kirk, Brittany Lang, Gerina Mendoza, Jennifer Song, Linnea Strom, and Ellinor Sudow.


ABOUT TEAM RUBICON
Team Rubicon is a veteran-led humanitarian organization that serves global communities before, during, and after disasters and crises. Founded following the Haiti earthquake in 2010, the organization has grown to more than 160,000 volunteers across the United States and has launched over 1,100 operations domestically and internationally. To drive equity across disaster and humanitarian services, Team Rubicon focuses on three areas of impact: disaster services- from mitigation to immediate response to recovery; rebuild services — maintaining the fabric of communities through resilient building methods; and international services- providing emergent and surge medical services, WASH, and disaster risk reduction. The organization is featured in the Roku original series titled Team Rubicon, which highlights the work of Greyshirt volunteers assisting communities across the country. Visit www.teamrubiconusa.org for more information.


For more information about The Bob & Renee Parsons Foundation visit, www.tbrpf.org.