BENEFITS TO FITTED CLUBS:
Experience increased confidence in your game from tee to green.
Have greater accuracy and consistency in your shots no matter the lie.
Find greater distance and trajectory off the tee box.
Hit your irons more consistently (even long irons).
Improve your short game, from 100 yards out to making more putts.
Find more success in managing the course (even new ones and on "bad days").
Overall, you will enjoy the game more.
FITTING TOPICS
YOU DON'T HAVE TO BE A SCRATCH GOLFER TO SEE THE BENEFITS OF A CLUB FITTING
It is a common misconception that you need to be a skilled golfer with a registered handicap and have multiple rounds under your belt to be a candidate for an in-depth club fitting experience.This simply isn't true. In fact, beginners to the sport and golfers with a higher handicap can "move the needle" exponentially faster through a professional club fitting as players don't need to adjust or change their swing. Simply put, playing with fitted clubs is the fastest, most surefire way to improve your performance on the course almost immediately.
WHERE CAN I GET A FITTING
From PXG Stores to partner fitting facilities, PXG has hundreds of fitting locations to choose from. Find a location near you and book your fitting here. If you need help finding the best location for you, have questions about PXG fittings, or want to speak to a PXG Fitting Specialist by phone, call the PXG Fitting Department at 1.844.FIT.4PXG.
ABOUT OUR PXG FITTING SPECIALISTS
Certified PXG Fitting Specialists are full time golf equipment and fitting experts who work exclusively for PXG. They are highly trained by the PXG Engineers who design our clubs and our Fitting Sciences Expert who ensures your fitting maximizes the performance of your swing.
SOME TOOLS OF THE TRADE
Whether you get fit at one of our PXG Stores or a partner fitting location, our highly-trained PXG Fitting Specialists are equipped with our entire collection of PXG Clubheads, a large matrix of premium shafts, and industry- leading launch monitor and putter fitting technology. Every PXG fitting is a tour-caliber experience designed to improve your performance on the golf course.
Fittings at PXG can take many forms whether you're at one of our retail store locations, your home course, or even a local country club. No matter where you're fitted, we always have our eyes on the prize: to help you find more enjoyment in your game by changing your equipment not changing your swing!
WHAT YOU CAN EXPECT DURING YOUR PXG FITTING
We get it. Wielding a golf club as a beginner under a fitting professional's watchful eye can be scary, but it's not as scary as playing a round with ill-fitted equipment. Much like running a marathon for the first time in shoes that are two sizes too small, it isn't fun and you won't ever want to do it again. At PXG, we want you to enjoy your fitting experience every step of the way. Speaking of steps, let's get into what you can expect during the process.
THE FITTING PROCESS
Step One: When you arrive at your fitting, your fitter will spend time listening to your preferences and learning about your game. Together you will discuss your playing history, as well as your personal goals. Your fitter will seek to understand your skill level and will take time to introduce PXG and our products.
Step Two: Your fitting experience will begin with your existing clubs if you have them. If you don't currently own clubs or prefer not to bring them, don't worry, we've got you covered.
Step Three: On to the fun part … seeing your game improve! Your fitter will select the PXG clubheads and shafts that best suit your game. Emphasis will be placed on improving your total club-by-club performance, ball flight, mis-hits, everything. That's right, we look at your common misses to determine the best set up for you. We will efficiently manage the number of swings you make to ensure you can deliver your best swings throughout the fitting experience. However, if at any point you feel fatigued, take a break. This is your session, your fitter is not in a hurry and you are in control.
Step Four: There is nothing like seeing how it all comes together in the end. Your fitter will show you the data from your session, explaining the numbers in as much detail as you need and/or want. Based on the numbers and, more importantly, your input, your fitter will recommend the set they believe will best support your performance and enjoyment of the game.
HOW LONG DOES A PXG FITTING EXPERIENCE LAST?
1. Full Bag: 120 Minutes
2. Woods Only: 60 Minutes
3. Irons Only: 60 Minutes
4. Putter Only: 30 Minutes
WHAT SHOULD I BRING?
Existing Clubs: We highly recommend that you bring your current set of clubs, if you have them. This will allow your PXG Fitting Specialist to see what you're working with and quickly identify where we can make improvements. It also allows us to show you the performance comparison between your current set-up and PXG's world class equipment.

Footwear And Golf Glove: For fittings at PXG Stores and indoor fitting studios, we recommend you bring your golf shoes and a golf glove, if you have them.
HOW MUCH IS A PXG FITTING?
Full Bag Fitting: $125
Combo Fitting: $50
Woods Fitting $50
Irons Fitting $50
Putter Fitting $50
Fitting fee NOT applied towards purchase
WHAT TO EXPECT AT PXG STORE FITTINGS
At PXG Stores locations and indoor fitting studios, PXG Fitting Specialists will lead you through the advanced, performance-enhancing technology of PXG clubs in private, climate-controlled fitting bay equipped with top-of-the-line TrackMan™ technology Technology. Hitting from artificial turf into a virtual golf simulator screen, we'll leverage launch monitor data that includes swing speed, ball speed, trajectory, and spin to evaluate your swing tendencies and skill level. Utilizing that information, your PXG Fitting Specialist will recommend your ideal club configuration.
We offer a number of premium indoor fitting experiences and locations including PXG Retail Stores in Atlanta, Chicago (Northbrook), Chicago (Oakbrook), Minneapolis, Boston, Denver, Fairfax, Houston, Indianapolis, Orlando, Paramus, Philadelphia, Dallas, Detroit, Scottsdale, Seattle, Glendale (Westgate). Mesa and Phoenix (Norterra).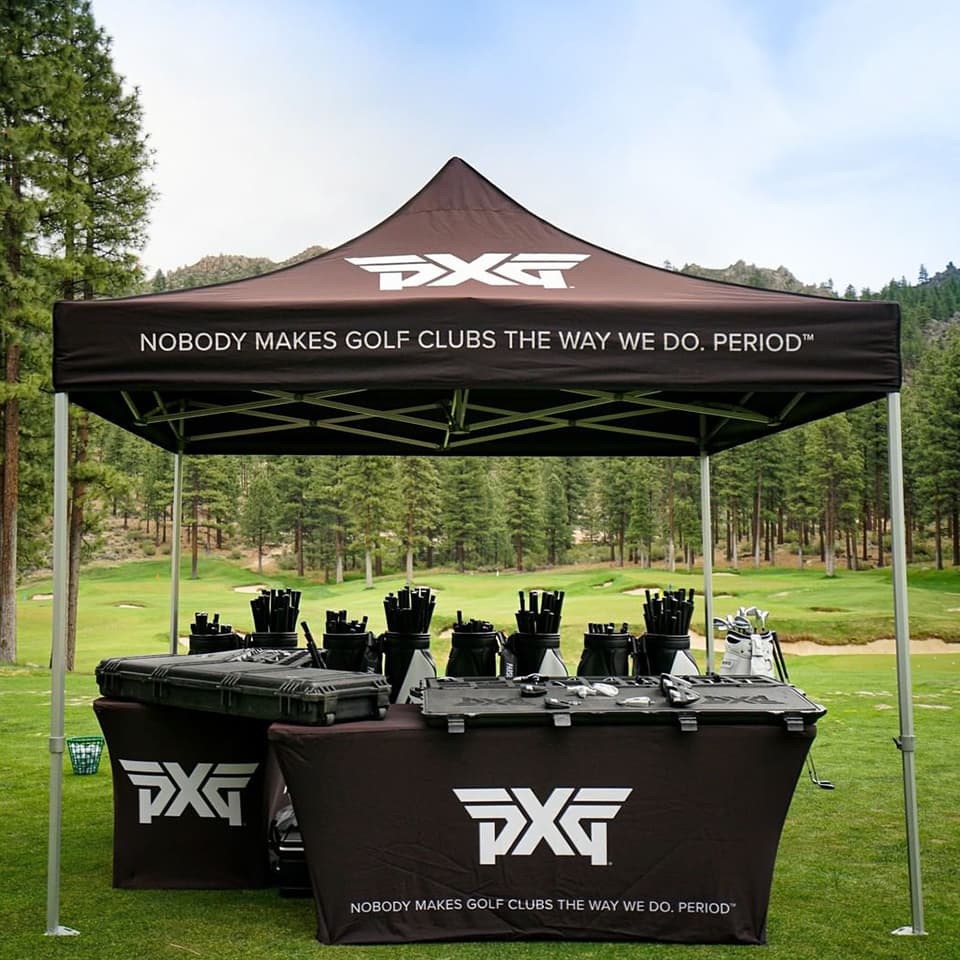 WHAT YOU CAN EXPECT DURING AN OUTDOOR FITTING
An outdoor PXG fitting experience provides for natural light, real turf, and the ability to watch the full trajectory of your ball flight. Outdoors, we use TrackMan technology to evaluate your swing data and to dial in your equipment and enhance your game.
We've partnered with hundreds of golf facilities making it easy to schedule an outdoor fitting at a location convenient to you.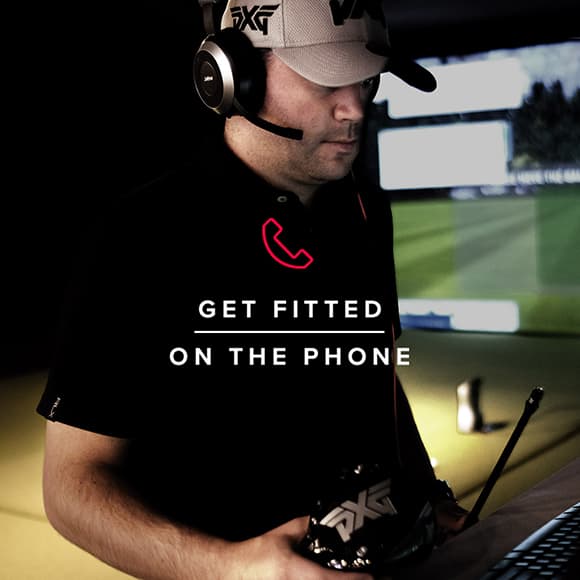 OVER THE PHONE CLUB FITTINGS
In addition to in-person fittings, available at PXG Stores and fitting studios across the country, our professional Fitting Specialists are available to deliver a unique fitting experience via the phone by calling 1.844.FIT.4PXG.
HOW OUR FIT BY PHONE EXPERIENCE WORKS
Every Fit-by-Phone experience is led by a professional PXG Fitting Specialist. Sessions consist of an in-depth interview focusing on each customer's current equipment, playing history, physical limitations, overall strengths and weaknesses, and the areas they're looking to see improvement. The process can vary between 30-to-90 minutes depending on the player's questions and the golf equipment they are looking to purchase.
From preferred shot shape and handicap, to swing tempo and shaft flex preference, PXG Fitting Specialists consider every aspect of a player's game to improve ball flight, distance, accuracy, and confidence.
Leveraging the information received during the one-to-one conversation, Fitting Specialists help select the PXG clubheads and premium shafts from our matrix that best suit the player's natural tendencies. Then, they help dial-in the specifications for loft, lie, and weighting to create the ideal club configuration. For players who have geographic or time constraints – or for those who prefer a non-contact fitting – the Fit-by-Phone experience is a great option. We also understand that hitting in front of a Fitting Specialist may be nerve-racking; and so, connecting by phone allows all players to have an engaged conversation about their game and personal goals.

"Was fitted last night via phone and can confirm, outstanding customer service! Jasi was wonderful to work with, can't wait for my new sticks to arrive!" – PXG Customer
SCHEDULE YOUR PXG FITTING EXPERIENCE TODAY
There are two easy ways to book your fitting with PXG.
Call the PXG Fitting Department at 1.844.FIT.4PXG. Our PXG Fitting Specialists will answer any questions you have and help you book a fitting at the PXG Store or fitting location that's right for you.
Book your appointment online using our easy scheduling tool. Click here to find a location near you, then simply choose a fitting type, day and time that works for you.