PXG Introduces Actor, Comedian, and Retired Marine Rob Riggle as the Company's Newest Ambassador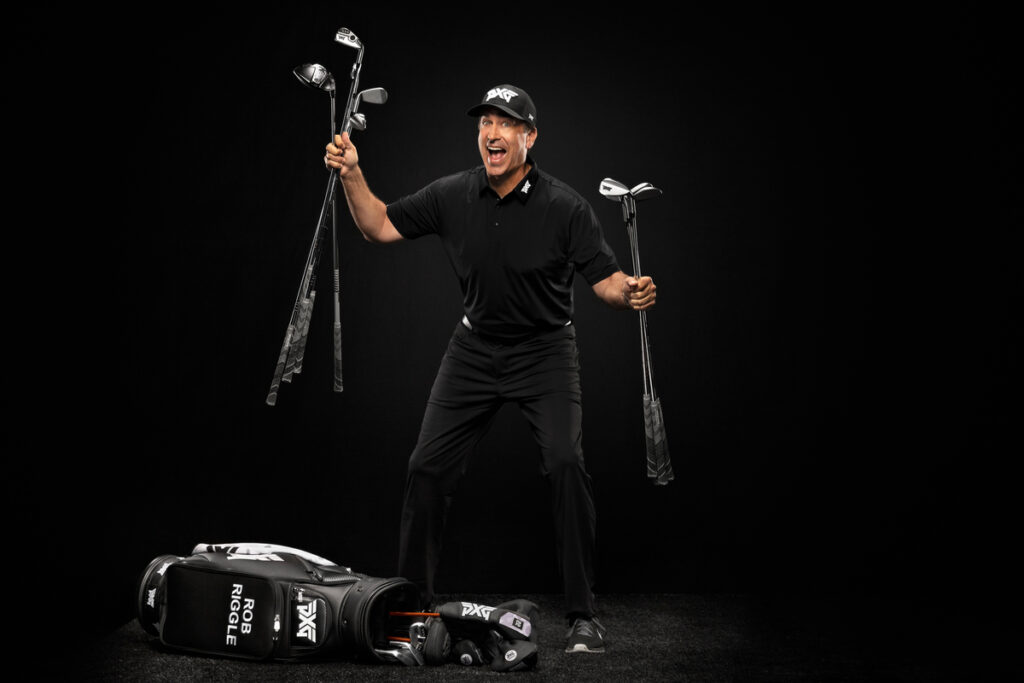 SCOTTSDALE, Ariz. (July 28, 2022) – PXG, the fun-loving, performance-focused golf equipment and apparel company, announced Rob Riggle as its newest ambassador. The multi-talented actor, comedian, writer, producer, director, retired Marine Lieutenant Colonel, and golf nut will officially represent PXG on the golf course and collaborate in creating top-shelf content.
Riggle's first project with PXG is a six-part web series, Playing Around with Rob Riggle. Click here to watch the teaser!
The series premieres on YouTube on Thursday, August 18, 2022, with new episodes airing every Thursday for six weeks. Each episode features Riggle and guests playing three holes at Scottsdale National Golf Club as they chat about life, work, and their passion for the game of golf. Guests include NFL players, golf broadcasters, military veterans, PXG customers, and more.
On his relationship with PXG, Riggle shared, "I love golf. I love PXG. I love playing golf with PXG!"
As an avid golf enthusiast, Riggle fell in love with the sport at the age of 12 after hitting a bucket of balls with his mom's clubs. He currently hosts the extreme miniature golf game show Holey Moley on ABC but is best known for his roles in The Hangover, 21 & 22 Jump Street, Dumb and Dumber To, The Other Guys, Let's Be Cops, and Step Brothers; as well as his work on Saturday Night Live and The Daily Show.
Like PXG Founder and CEO Bob Parsons, Rob Riggle is a United States Marine. He joined the Marine Corps in 1990 at 19, rising through the ranks and serving in various countries, including Albania, Liberia, and Afghanistan. He retired from the Marine Corps after 23 years of service.
"We've been team Riggle for years. Now, I am pleased and proud to officially welcome my fellow Devil Dog and funny man, Rob Riggle, to team PXG," Bob Parsons stated.
Rob Riggle is a longtime fan of the PXG brand. An equipment junkie, Riggle initially sought out a golf club fitting at PXG Headquarters in true Marine meets comedy style. He took matters into his own hands. He hopped on a Southwest flight, called an Uber, and landed on PXG's welcome mat.
The personalized fitting experience and an impressive first round on the golf course made PXG a mainstay in Riggle's golf bag. Over the years, PXG has supported Riggle's annual charity InVETational Golf Tournament. And later, Riggle accepted an invitation to participate in the PXG College Golf Showcase as Team Semper Fi & America's Fund captain.
So, what's In Rob Riggle's bag?
"I knew I could count on Bob Parsons to deliver the goods! He's a fellow Marine after all," Riggle stated. "When my PXG clubs arrived in that awesome black box, I knew things were about to improve. Collaborating with PXG is the best break my golf game has ever received."
To learn more, visit pxg.com/en-us/pros/rob-riggle, and catch Playing Around with Rob Riggle on YouTube starting Thursday, August 18.
ABOUT PARSONS XTREME GOLF
Founded by entrepreneur and self-proclaimed golf nut Bob Parsons, PXG embodies his belief that every new product – from golf clubs to sport fashion apparel – should be markedly better. Every innovation should noticeably improve your performance. And every moment of impact should elevate your enjoyment.
Today, PXG offers a complete lineup of right- and left-handed golf clubs, including drivers, fairway woods, hybrids, irons, wedges, and putters, as well as high-performance, sport fashion apparel and accessories.
PXG's professional staff includes Jason Kokrak, Joel Dahmen, Zach Johnson, Paul Barjon, Michael Gligic, James Hahn, Jim Herman, Sung Kang, David Lipsky, Luke List, Justin Lower, Henrik Norlander, Seth Reeves, Kyle Stanley, Hudson Swafford, Cameron Tringale, Celine Boutier, Austin Ernst, Mina Harigae, Vivian Hou, Yu-Sang Hou, Gina Kim, Megan Khang, Christina Kim, Katherine Kirk, Brittany Lang, Gerina Mendoza, Ryann O'Toole, Jennifer Song, and Mariah Stackhouse.
ABOUT SCOTTSDALE NATIONAL GOLF CLUB
An exclusive, members only oasis in the Sonoran Desert, Scottsdale National Golf Club presents golf the way it should be played. No tee times required. Wide open fairways across forty-five holes with no homes lining the courses. Supported by two distinctive clubhouses with stunning views and unexpected amenities. Fifteen luxurious member Villas with sixty tastefully appointed rooms, surrounded by three million acres of government protected desert land in the center of magnificent vistas. And just one rule, established by club owners Bob and Renee Parsons, "No member shall ever impinge upon another member's enjoyment of the club."