PXG Pro and Major Champion Celine Boutier Finishes on Top at the FREED GROUP Women's Scottish Open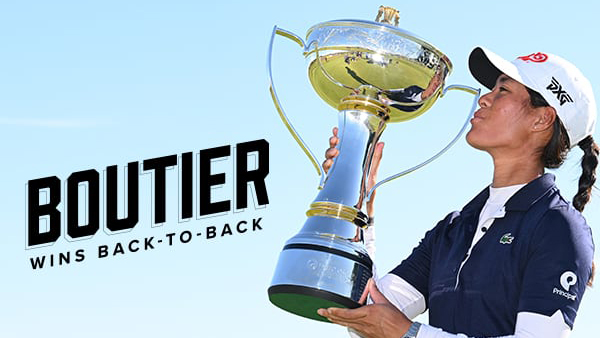 Scottsdale, AZ (August 6, 2023) – Following her major victory at the Amundi Evian Championship, PXG LPGA Tour Professional Celine Boutier continued her title run with another impressive finish. Boutier found herself back in a familiar spot at the top of the leaderboard on Sunday, finishing the week at 15-under to clinch the win at the FREED GROUP Women's Scottish Open.


"What a tremendous accomplishment for PXG Pro Celine Boutier," said PXG founder and CEO Bob Parsons. "She is an absolute force to be reckoned with and we couldn't be happier to see her back in the winner's circle. Congratulations, Celine!"


"These last two weeks really are a dream come true. I have worked so hard and I am so incredibly grateful to the people and partners who have supported me along the way," LPGA Tour Champion Celine Boutier shared. "PXG saw my potential in college, supported me in my transition to playing professionally, and continues to stand beside me today. I am thrilled to celebrate another win as part of the PXG Troops."


Shooting in the 60's in the last eight tournament rounds, Boutier's win at the FREED GROUP Women's Scottish Open is her fifth LPGA Tour victory.


What's in Celine Boutier's Bag:

A global golf research and development powerhouse, PXG is dedicated to creating the world's finest golf equipment and apparel. Currently, PXG is inviting all golfers to bring their current driver in for free a head-to-head, knockout event with PXG's latest technology. To find out more, check out the PXG GEN6 Driver Challenge.

To learn more about PXG, its lineup of tour professionals, or to schedule a custom golf club fitting, visit www.PXG.com.


ABOUT PARSONS XTREME GOLF

Founded by entrepreneur and self-proclaimed golf nut Bob Parsons, PXG embodies his belief that every new product – from golf clubs to sport fashion apparel – should be markedly better. Every innovation should noticeably improve your performance. And every moment of impact should elevate your enjoyment.


Today, PXG offers a complete lineup of right- and left-handed golf clubs, including drivers, fairway woods, hybrids, irons, wedges, and putters, as well as high-performance, sport fashion apparel, and accessories.


PXG's professional staff includes Joel Dahmen, Zach Johnson, Mason Andersen, Paul Barjon, Eric Cole, Kevin Dougherty, Nicolas Echavarria, Clay Feagler, Patrick Fishburn, Michael Gligic, Grant Hirschman, Bo Hoag, Michael Johnson, Jake Knapp, KK Limbhaust, David Lipsky, Luke List, Justin Lower, Ryan McCormick, Henrik Norlander, Augusto Nunez, Garrett Reband, Seth Reeves, Shad Tuten, Dylan Wu, Celine Boutier, Austin Ernst, Mina Harigae, Yu-Sang Hou, Megan Khang, Christina Kim, Gina Kim, Katherine Kirk, Brittany Lang, Gerina Mendoza, Jennifer Song, Linnea Strom, and Ellinor Sudow.