Schedule a free PXG Driver fitting in August, bring your current gamer from any brand, and take the PXG #GEN6DriverChallenge!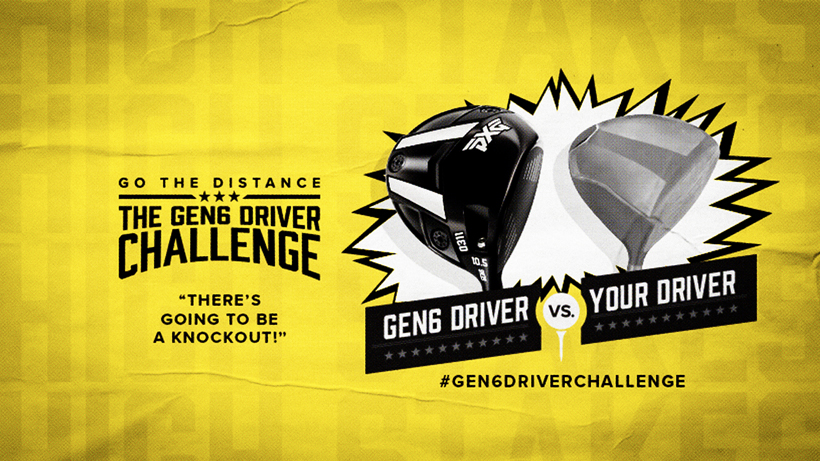 Scottsdale, AZ (August 1, 2023) – All month, PXG® is putting its money where its mouth is with the GEN6 Driver ChallengeÔ. The PXG GEN6 Driver Challenge invites all golfers – both PXG fans and critics – to bring their current driver to a free fitting for a head-to-head, knockout event with PXG's new GEN6 Driver. If the PXG GEN6 Driver is longer or has a tighter dispersion, PXG wins. If not, PXG will hand over a $100 USD Mastercard Rewards Card. No questions asked.

"The PXG GEN6 Driver stands tall next to all the established brands. It's blazing fast and beyond forgiving. We're so confident that in nearly every case it will knock out the competition, I am willing to put money on it," said PXG Founder and CEO Bob Parsons. "To all those who have wondered and waited, or those who have trolled and not tested, now's the time. You've got nothing to lose and everything to gain."


For those who are ready to rise to the challenge, the process is simple:

Schedule a free PXG GEN6 Driver Challenge fitting online or call 844.PLAY.PXG.
Bring your current driver to the custom fitting appointment.
Once warmed up, the PXG Master Fitter will have you hit five (5) shots with your current driver.

Performance data will be captured on Trackman® launch monitor.

The three (3) best shots will be selected and recorded.

The PXG Master Fitter will then conduct a PXG GEN6 Driver fitting.
Once complete, the PXG Master Fitter will have you hit five (5) shots with the fitted PXG GEN6 Driver.

The three (3) best shots will be selected and recorded.

Results will be reviewed, and the winning driver will be identified.

Fitter will use Average Total Distance (Carry and Roll) to determine the distance-winning driver​.

Fitter will use Side Total (+/-) to determine the dispersion-winning driver​.

PXG is the winner if either category is better than your current driver​.
Important notes:

Swing speed average must be within three (3) mph – PXG GEN6 Driver vs. Participant's Current Client's Driver.
Same brand of golf ball must be used throughout the challenge.
Limit one challenge per person.

Leading up to the launch of the GEN6 Driver Challenge, PXG ran a few tests behind the scenes, and the result proved the company's theory – the PXG GEN6 Driver outperforms the competition in almost every instance! More than fifty golfers accepted the sample challenge. PXG won 94% of the time. The average distance with a player's current gamer was 223 yards. With GEN6, the average distance was 234 yards.


Kicking off today, the challenge will run through August 31st, 2023. Throughout the month, in addition to pre-booked fittings, PXG will host PXG GEN6 Driver Challenge Nights in select PXG Stores and fitting locations.


To learn more about the PXG GEN6 Driver Challenge or to schedule a driver fitting, visit PXG.com.


ABOUT PXG 0311 GEN6 DRIVERS


Engineered to deliver incredible forgiveness, maximum distance, and tight dispersion, PXG 0311 GEN6 Drivers are available in two models to suit golfers at all levels. The PXG 0311® GEN6 Driver features a traditional teardrop head shape with a notably curved crown structure and a shorter body from front to back. The tall/deep clubface is designed to support excellent mishit performance, especially on higher face impacts. The 0311 XFÒ GEN6 Driver has a larger head profile and a more symmetrical shape than its counterpart. This makes it easier to square the face at impact, delivering the ideal blend of distance and forgiveness.


ABOUT PARSONS XTREME GOLF


Founded by entrepreneur and self-proclaimed golf nut Bob Parsons, PXG embodies his belief that every new product – from golf clubs to sport fashion apparel – should be markedly better. Every innovation should noticeably improve your performance. And every moment of impact should elevate your enjoyment.


Today, PXG offers a complete lineup of right- and left-handed golf clubs, including drivers, fairway woods, hybrids, irons, wedges, and putters, as well as high-performance, sport fashion apparel, and accessories.


PXG's professional staff includes Joel Dahmen, Zach Johnson, Mason Andersen, Paul Barjon, Eric Cole, Kevin Dougherty, Nicolas Echavarria, Clay Feagler, Patrick Fishburn, Michael Gligic, Grant Hirschman, Bo Hoag, Michael Johnson, Jake Knapp, KK Limbhaust, David Lipsky, Luke List, Justin Lower, Ryan McCormick, Henrik Norlander, Augusto Nunez, Garrett Reband, Seth Reeves, Shad Tuten, Dylan Wu, Celine Boutier, Austin Ernst, Mina Harigae, Yu-Sang Hou, Megan Khang, Christina Kim, Gina Kim, Katherine Kirk, Brittany Lang, Gerina Mendoza, Jennifer Song, Linnea Strom, and Ellinor Sudow.