Our PXG engineers have once again raised the bar with our new GEN5 Irons. These clubs are equipped with several cutting-edge innovations that are sure to elevate your enjoyment of the game. PXG Ambassador Alex Riggs dropped in to PXG HQ in Scottsdale to chat with Senior R&D Engineer Caleb Kroloff to see what's new with our PXG 0311 GEN5 Irons. Read on to learn more about these new features and how they will help you raise your game.
THE SCIENCE BEHIND WHY THEY'RE DIFFERENT
GEN5 Irons are available in three impressive head shapes, XP (Xtreme Performance), P (Players), and T (Tour).

To understand the difference between the head shapes – take a look at GEN5 Irons comparison.
GEN5 Irons advance our original flagship 0311 Irons forward and set the benchmark to which all other irons will be measured. If you're a golfer looking for club technology that gives you better feel, forgiveness, and distance, these irons could be for you. In order to fully understand what sets them apart, it helps to first understand the technology behind the design.
PXG'S PROPRIETARY XCOR2 TECHNOLOGY
It's the inside that counts. And with PXG's signature hollow-bodied irons, that statement rings true! A result of years of research and development, XCOR2 is PXG's revolutionary polymer core material, designed specifically for GEN5 Irons. Extremely lightweight, XCOR2 helps reduce the mass of the core by 6-8 grams. This enables more weight to be positioned low and to the perimeter of the backside of the clubhead, dramatically increasing MOI and forgiveness.
Check out our quick read for a crash course on MOI and learn why MOI is important for your game.
POWER CHANNEL TECHNOLOGY
A further advancement for the GEN5 Irons is the integration of a new under-the-hood design feature – Power Channel Technology.
This proprietary U-shaped corridor built into the internal surface of the face is designed to increase deflection and bend in the top sector. The channel creates face movement and transfers energy to simultaneously increase launch angle, trajectory, and ball speed. Combined with our ultra-thin face technology – the thinnest in the industry and XCOR2 we were able to enhance the C.O.R. for extreme face deflection and out-ofsight ball speed.
PRECISION WEIGHTING TECHNOLOGY
GEN5 Irons feature five tungsten heel/toe weights and one large weight located near the CG on the back of the clubhead. The larger weight allows golfers to experience various swing weights during an in person golf club fitting.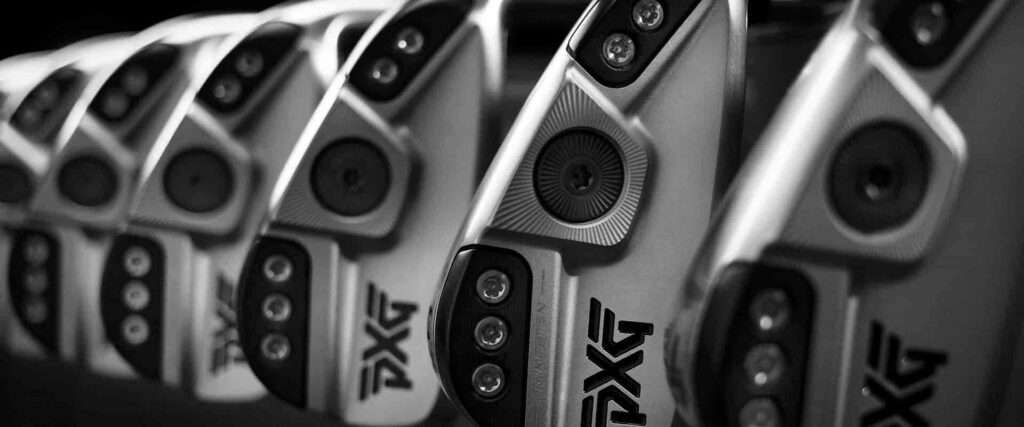 This center weight can be adjusted in 2-gram increments by your fitter at the time of fitting to allow you to experience the various clubhead weights and to achieve optimal personalized performance for your swing.
PXG IS SHAPING THE FUTURE OF THE GAME
At our core, PXG is a research and development company. Our commitment to finding new materials, integrating new technologies, and using a data-driven approach to golf club design translates to real and measurable gains.
We're not kidding around when we say our new GEN5 Irons deliver cannon-like distance, angelic forgiveness, laser-like accuracy, and incredible sound and feel. Just one swing, you'll feel the difference. So, what are you waiting for? GEN5 Golf Clubs are shipping now!
Find a convenient location and schedule your custom fitting today or call our PXG fitting Department at 1.844.FIT.4PXG (1.844.348.4794).
You can also select your preferred model and configure your new GEN5 Irons online right now!
Transcript
Alex Riggs:
Hello everyone. Alex Riggs here. Today I'm at PXG HQ, the build shop with Caleb, the senior R&D engineer with PXG. Caleb, we're talking GEN5 Irons. Now I've played GEN4, I've just recently got my GEN5s, love them. Couple aesthetic differences that I see between the models right away, the black in the heel and toe, what's with that?
Caleb Kroloff:
So with GEN5, we've really focused on trying to call out where we've put some of that mass.
Alex Riggs:
Yes.
Caleb Kroloff:
And how we use that mass to improve the club and make it more forgiving. So, on this club here, you can see the heel and toe have the black aesthetic with the silver screws in there, and those screws are tungsten weights.
Alex Riggs:
Okay.
Caleb Kroloff:
So what we're doing, is moving more weight to the heel and toe sections. And that creates an improved MOI, which whenever we're talking about MOI, higher MOI means more forgiveness. It means on mishits, the club wants to stay straighter and creates a better energy transfer.
Alex Riggs:
Fantastic. We all need more forgiveness. Now I've hit these golf clubs and the sound is incredible, insanely forgiving, and they come off hot. What's with that difference in sound where's that coming from?
Caleb Kroloff:
So with each generation, we've altered what we use as our core material. So in this generation, we have what we call XCOR2. And that is the new evolution of our previous XCOR, right? The XCOR was something we developed as proprietary material with a partner to kind of optimize exactly what we were looking for.
Caleb Kroloff:
So with XCOR2, we've taken what has already worked really well, and we've improved it by creating a lighter weight material. So lower density, which saves five to seven grams per head. That adds to what we can put on the perimeter to improve MOI and to create that more forgiveness. We've also been able to improve the coefficient of restitution or the COR, which is just a measure of speed in versus speed out or energy transfer. So higher COR would mean that we are creating more energy transfer and more ball speed on your head. So we found something that's a little bit hotter and then creates a little more forgiveness as well. And that's our new XCOR2 technology.
Alex Riggs:
It's incredible. The fact that you guys are creating this product, inventing new materials, just to make the irons play better. I know I'm a huge fan. They're coming off hot, and they're insanely forgiving. Just what you all want. All right, Caleb. So this looks familiar to me. I've seen this many times before, but what's going on under the hood?
Caleb Kroloff:
Well, as you said, pretty similar to previous generations where we have the thinnest face in golf, and we're able to do that because of our core technology. The core is preventing the face from caving in. So we're able to be thinner, save some weight, and create more forgiveness throughout the head. The thing that's new is the C groove that we have in here. So you can feel right there where it actually steps down. It's even thinner on the heel and toe and on the top portion. And what that does is, it's there to optimize launch conditions. So it creates a higher launch and lower spin characteristic ball flight, adding distance for the player.
Alex Riggs:
Well, we all need that.
Caleb Kroloff:
Oh yeah.
Alex Riggs:
Remember the new GEN5, the best irons in the game. Nobody makes golf clubs that way we do. Period.
Follow Bob on Instagram!