At PXG, we know that finding the perfect golf grip is an important part of creating the perfect putter. That's why we've launched our new Battle Ready II collection of putters alongside our brand-new full selection of high-performance PXG golf grips. Our range of putters and grips will help elevate your game and take your putting to the next level.


Introducing PXG's New Performance Putter Grips
PXG's new performance putter grips were designed to meet a variety of preferences and styles to give golfers the edge they need on the green.

Made by stitching a polyurethane wrap around an injection molded EVA foam core, these grips are lightweight, allowing us to create a variety of shapes and sizes. The polyurethane wrap also has an "X" pattern for improved texture and feel.
Explore the Variety of PXG Putter Grip Option
When it comes to putting, every player has their own grip preferences. Let's help you find your perfect partner and take a closer look at the new PXG grip line up!


PXG Pistol Grips
PXG's pistol style putter grips offer players a traditional yet versatile grip option that can fit a variety of grip styles. There are three different profiles available, each with unique features to suit different preferences. The Pistol series maintains the same grip length of 10.5" and offers weights of 52g, 56g and 59g.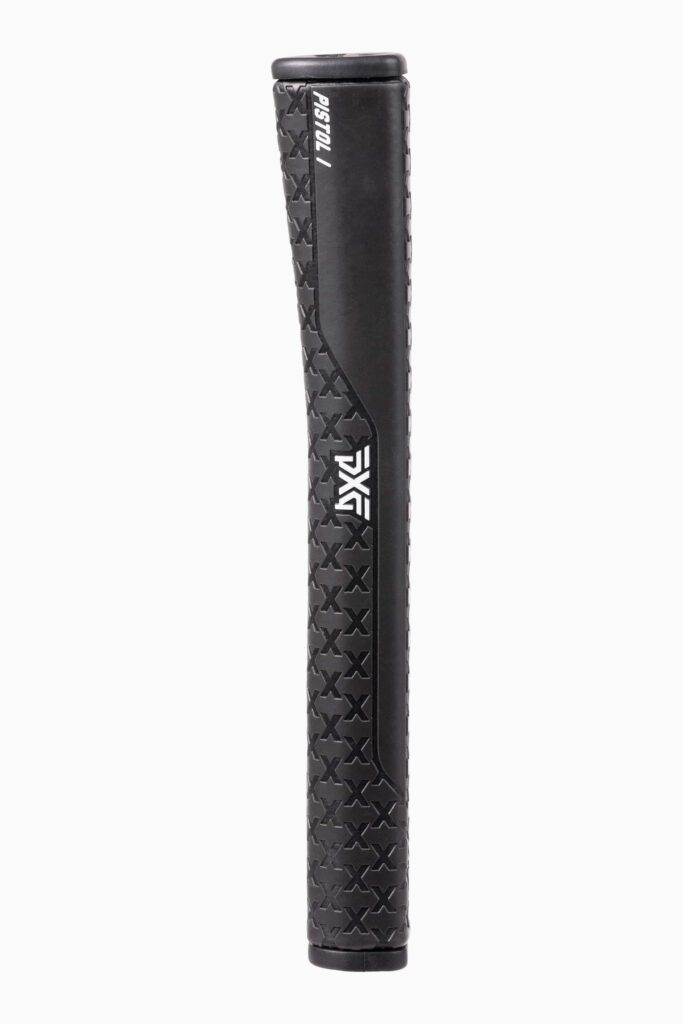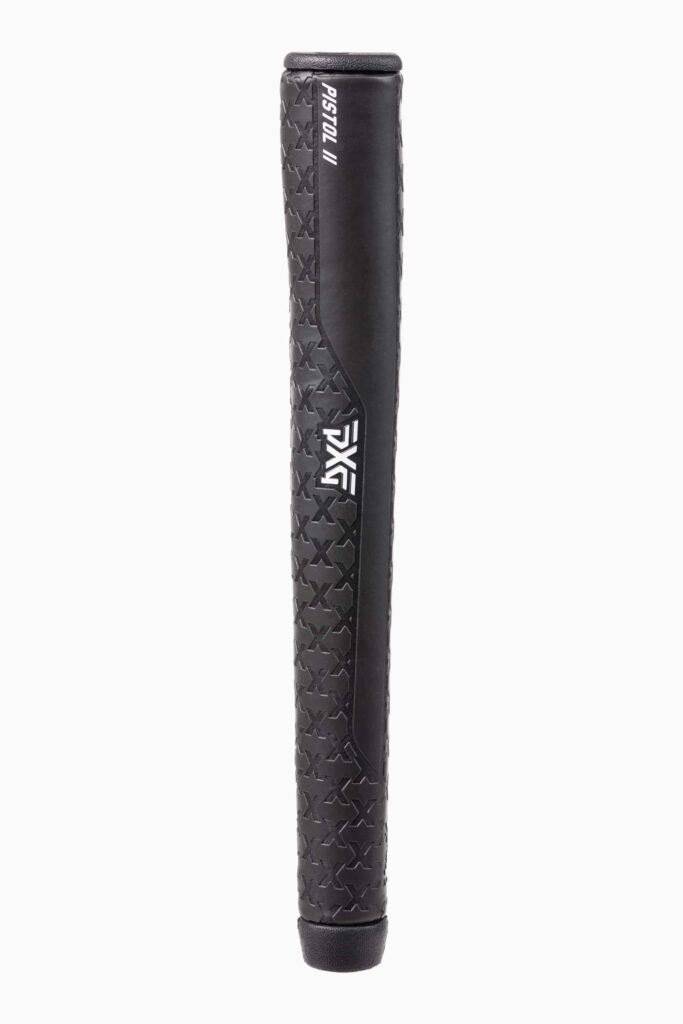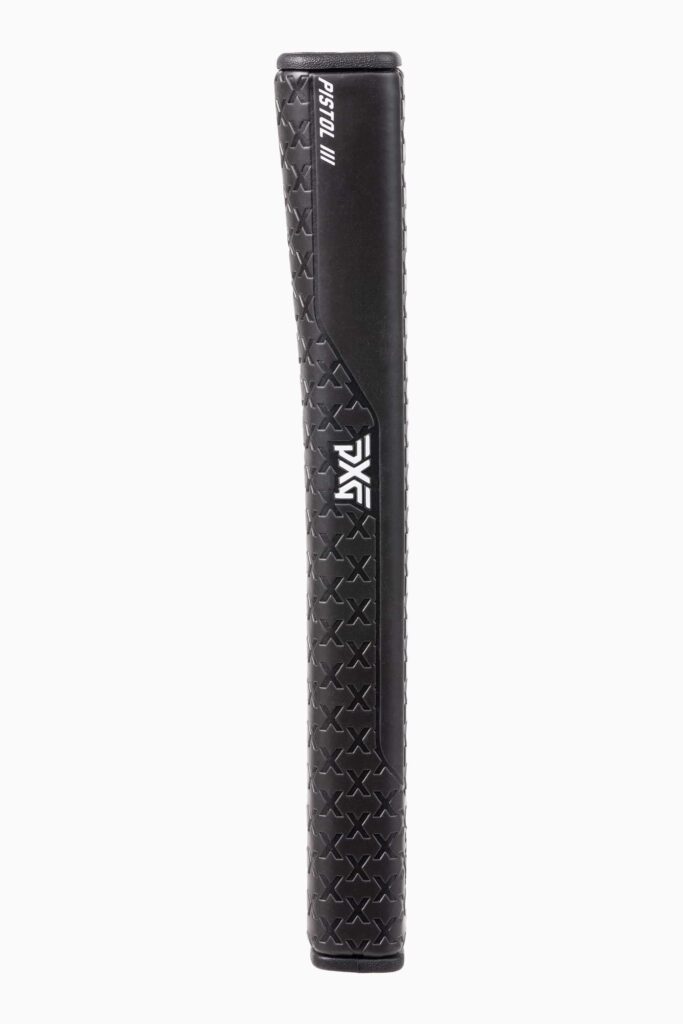 | | | |
| --- | --- | --- |
| PXG Pistol I Grip | PXG Pistol II Grip | PXG Pistol III Grip |
| Our lightest option. This grip has a flared top portion for a larger feel in the top hand, a rounded bottom portion, and a flatter front surface. This grip is very versatile and can fit a lot of different grip styles, making it a popular choice for many players. | A mid-weight option. This grip has a slightly flared top portion for a larger feel in the top hand that tapers down to a more rounded profile throughout. Again, this grip is very versatile and can fit a lot of different grip styles. | Features a flared top portion for a larger feel in the top hand that blends into a more squared off bottom portion. There are flatter surfaces and edges throughout, making this grip a versatile option that may be preferred by players that use alternative styles such as the pencil or claw grip. |
PXG Straight Putter Grips
The Straight Style Putter Grips come in four different sizes, each with a constant shape profile but variances in weight and length.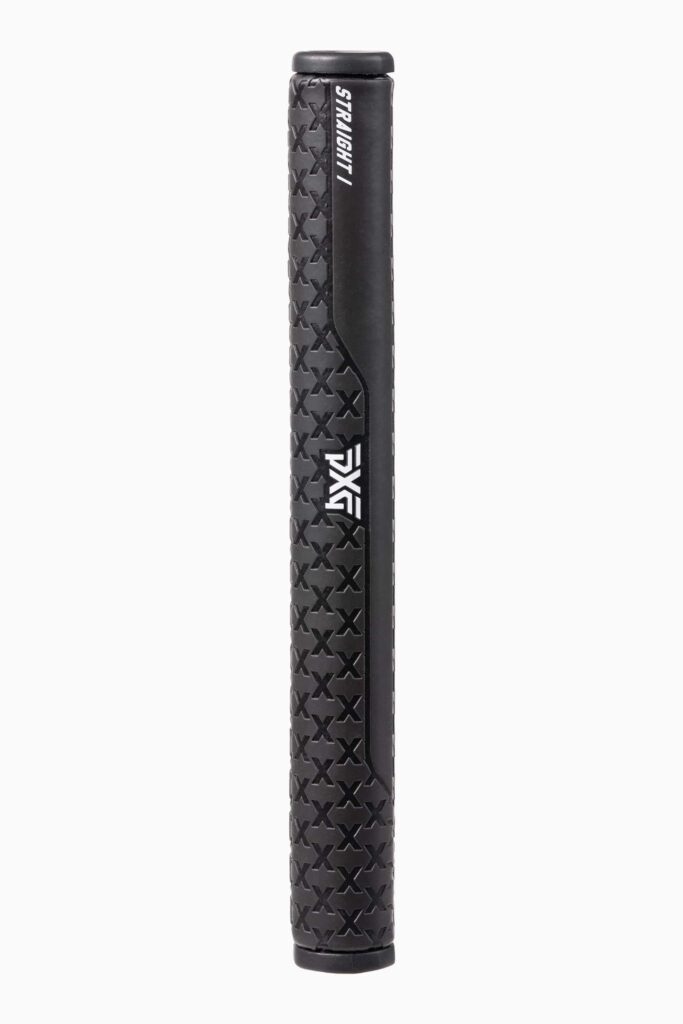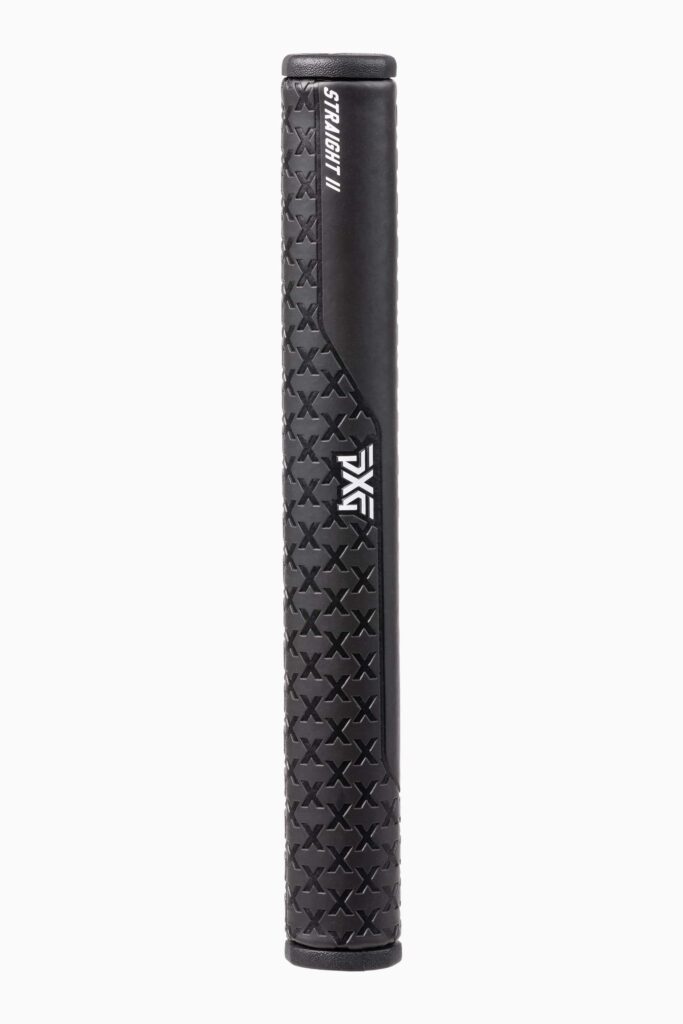 | | |
| --- | --- |
| PXG Straight I Grip | PXG Straight II Grip |
| The smallest, Straight I, features a flat front shape that remains consistent from top to bottom. It's a great option for those who prefer a smaller grip or have a more traditional grip style. | The middle option, Straight II, also features a constant shape profile with a flat front shape. It's versatile and can fit a variety of grip styles, making it a popular choice for many players. At 65.5g, it offers 11.5g more weight than the Straight I. |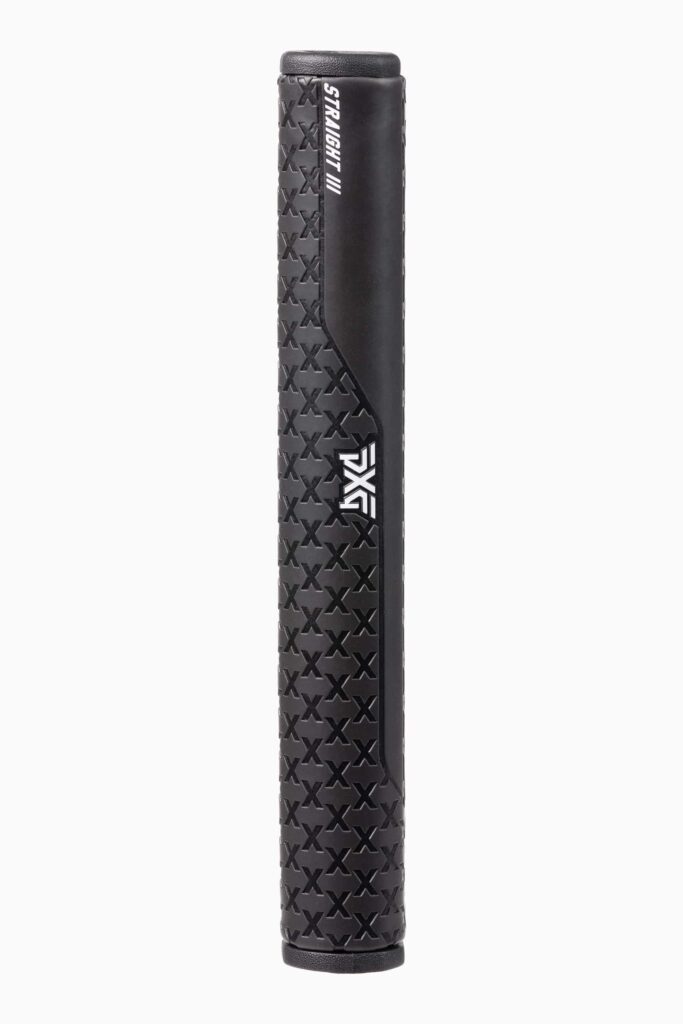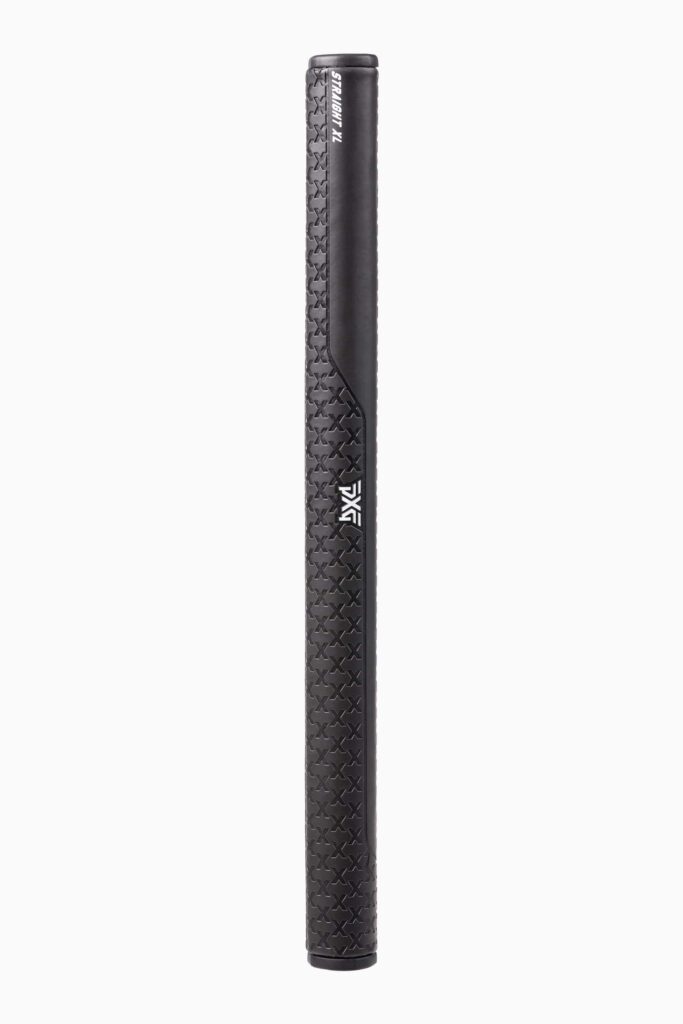 | | |
| --- | --- |
| | |
| PXG Straight III Grip | PXG Straight XL Grip |
| The largest of the series is Straight III (the heaviest in the collection at the standard 10.5" length) which again has a flat front shape and consistent profile. This grip is perfect for those who prefer a larger, heavier grip or have a more unconventional grip style. | The Straight XL has the same profile as the Straight II, but with a longer length and heavier grip weight. This grip is made specifically for alternative putting styles, such as the armlock style or the newly popular counter-balance style putting method. |
Overall, the Straight Style Putter Grips offer players a variety of options to find the perfect fit for their putting game. Whether you prefer a smaller or larger grip, or have a unique grip style, PXG has a Straight Style Putter Grip that will work for you.
All seven grip styles are offered as an upgrade with PXG's Battle Ready II collection of putters, and each one is designed to help players elevate their putting game by providing a comfortable and stable grip. If you're looking for a traditional yet versatile putter grip option, be sure to check out PXG's Performance Grips.


Understanding the Importance of Putter Grip

But why is putter grip so important? First and foremost, it affects how well you can control the clubhead. A grip that is too small or too large can cause your hands to slip or move during your putting stroke, leading to poor contact with the ball and a missed putt. Find a grip that fits perfectly in your hands and you'll experience the confidence and control you need to make precise, consistent putts.


So how can PXG's grip options help elevate your putting game? Let's explore some of the benefits:


1. Better feel and feedback: The grip is the only part of the putter that you actually touch, so it's crucial to have a grip that provides good feedback and feel. A softer grip can give you more feedback on your stroke and help you sense the speed and direction of the putt better. Conversely, a firmer grip can give you a more solid, connected feeling to the putter head. Luckily for you, PXG Performance Grips nestle perfectly in the middle, providing the best of both worlds.


2. Improved control and stability: A good grip can also help you control the putter head more effectively, which can lead to better accuracy and consistency. Grips with a larger diameter can help stabilize the hands and prevent unwanted wrist movements, while grips with a tapered shape can provide more control over the putter face.


3. Reduced tension and fatigue: Gripping the putter too tightly can create tension and muscle fatigue, which can negatively affect your stroke. Find your preferred grip style and you can reduce hand and arm tension to help promote a more relaxed grip, which can lead to a smoother stroke and better results.


PXG's range of putter grips provide the ideal balance of feel and control, no matter the putting stroke style.
And with the Battle Ready II collection of putters, you can be sure that your new grip is paired with a high-quality clubhead that will maximize your performance on the greens.


Finding the Right Grip for Your Putting Game

Every player has a unique putting stroke and along with correct head type and hosel selection, your grip can also make a difference.


Straight Back-and-Through Stroke

A straight putter grip is generally beneficial for golfers who have a straight-back-and-through putting stroke. This type of stroke typically involves minimal rotation of the wrists and a more linear, pendulum-like motion. A straight putter grip can help promote a square face at impact and maintain a consistent alignment throughout the stroke.


Arced Putting Stroke

For an arced putting stroke, a putter grip that encourages a slight wrist hinge and promotes a smooth, consistent arc can be beneficial.


A midsize PXG Pistol grip can be effective for golfers with an arced stroke as it allows for some wrist movement while still providing stability. It provides a comfortable grip that encourages a slight wrist hinge and promotes a consistent arc. The taper can help you maintain control and prevent excessive wrist action.


New TOUR Trend – Counter Balance Putter Grip

In recent years, we've seen a new trend emerge in the world of putting grips – the counter balance putter grip. This grip option, like the PXG Performance XL Grip 17″, has become increasingly popular among golfers looking to improve their putting game.


So, what exactly is a counter balance putter grip? Essentially, it's a grip that extends above the hands and serves to shift the weight of the putter higher up the shaft. This creates a higher balance point and can help golfers to make a smoother and more consistent stroke.


Counter balance grips are especially useful for players who tend to have a "handsy" stroke. By moving the weight of the putter up the shaft, the grip can help to reduce wrist action and promote a more pendulum-like motion. This can lead to greater accuracy and more consistent distance control.

With its extended length and versatile design, the PXG Performance XL Grip 17″ is a great option for golfers looking to experiment with different grip styles and find the one that works best for them.


We understand that every golfer has unique preferences and needs when it comes to their putting grip, and our selection of grips reflects that. So, whether you prefer a standard grip or something a little more unconventional, we've got you covered.


Schedule your PXG putter fitting today at a location near you, and be sure to test out the various grips available to find your perfect putter.