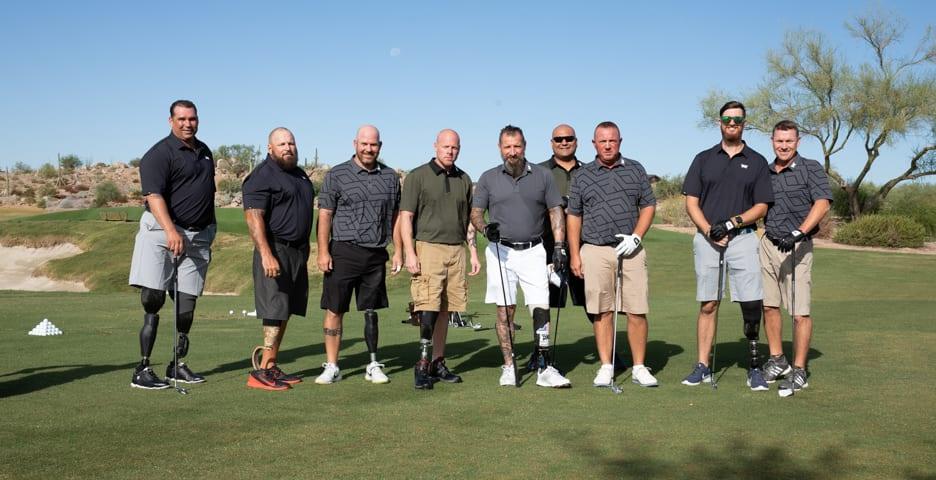 Golf has widely been known as a sport that has both mental and physical health benefits. Playing golf regularly has been known to decrease anxiety, increase confidence, improve self-esteem, and more. Exercise from playing a round of golf also has significant benefits, and it's one of the very few sports you can play no matter your age, impairment, gender, etc. It is a sport for EVERYONE, and, more specifically, veterans, military personnel, and first responders are turning to golf for its mental and physical health benefits. We interviewed three of our PXG For Heroes Troops to hear what they had to say about this topic:
THE IMPACT OF GOLF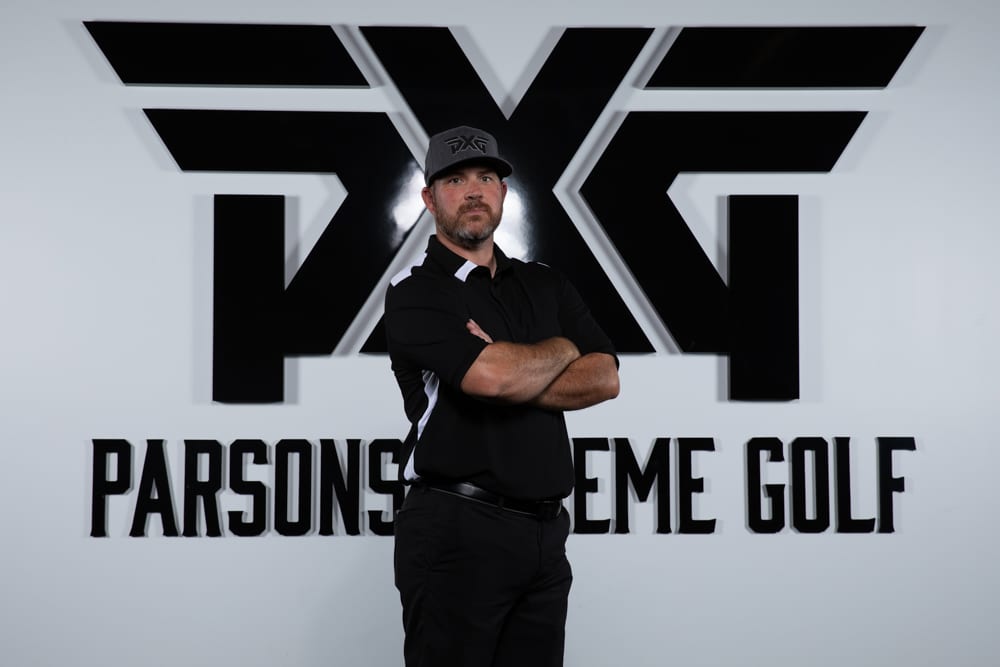 Retired Corporal Chad Pfeifer turned to golf in 2008 when he was going through physical therapy and rehabilitation after being injured in Iraq. Physically, golf allowed him to practice walking with a prosthetic leg on different terrains and gave him an additional way of exercising. Mentally, it was a place for him to relieve stress and anger. It provided him a means to meet new people, attend different tournaments and events, and it gave him a platform to help inspire other wounded veterans and share a sport that would help them overcome adversity.
Retired United States Marine Davey Lind took up golf following his injuries in 2007. It became a great outlet for him and something to look forward to. "I have had more experiences (travel etc.) in the context of golf outings and have made more friends and memories from various golf adventures," he stated.
Retired United States Marine Chris Nowak begin to participate in many sports after losing his leg. He became heavily involved in hockey and played on the National Amputee Hockey team for a couple of years. Golf later became a natural transition from hockey for Chris.
"Golf has impacted my life more than anything else I participated in or tried. Golf provides me the opportunity to focus on just that – golf. While playing golf or even at the range practicing, I can block out the other bad thoughts I have rolling around in my head, like the trauma I have experienced or even the day-to-day issues of life. Golf has given me the ability to interact with complete strangers, which is something I avoided for many years."
JOINING THE PXG FAMILY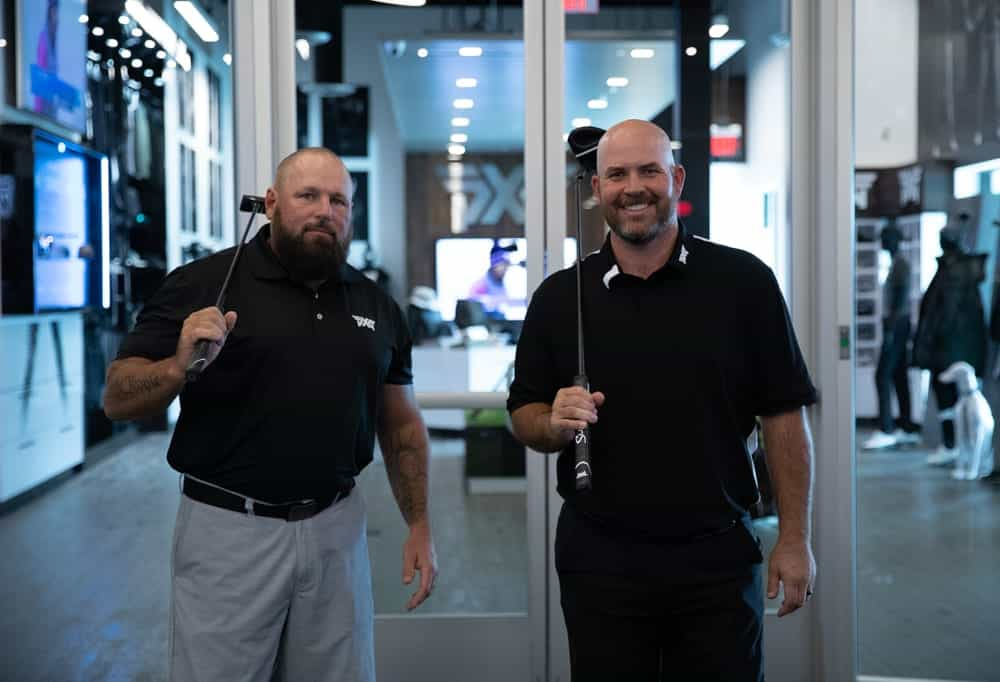 For Chris, being a member of the PXG For Heroes squad has presented him with the opportunity to play the best golf ever (period). It has given him the chance to play courses and participate in outings that he believes he wouldn't otherwise have experienced. "Along with great clubs and playing great courses, I have had the honor to meet some great Americans who love golf and this great country."
Chad states, "Being a part of the PXG For Heroes squad has introduced me to so many other veterans and wounded veterans. It has given me the opportunity to meet Rob Riggle, Jerome Bettis, Brian Urlacher, and many other celebrities, PGA golfers, LPGA golfers, and future stars of the game. It has also allowed me to get involved with organizations that help veterans, whether it be through golf or any other activity."
Davey has also been able to travel to some of his favorite destinations (including Scottsdale National Golf Course) and has been able to talk about the outlet golf has become for him.
"I feel honored to be afforded with the opportunity to discuss golf/PXG wherever I go. PXG's equipment and apparel are both head turners, so it is a huge compliment to be able to represent them."
HOW CAN VETERANS GET INVOLVED IN GOLF?
"I was fortunate to be living in San Diego at the time of my injuries because we have year-round golf. Various Recreational Therapy outlets offered to teach and instruct me. I was put in contact with Operation Game On (OGO), and that is where I originally had the fires lit for the passion to compete, against others AND myself. OGO provided instruction and equipment so many years ago. I was fortunate they existed.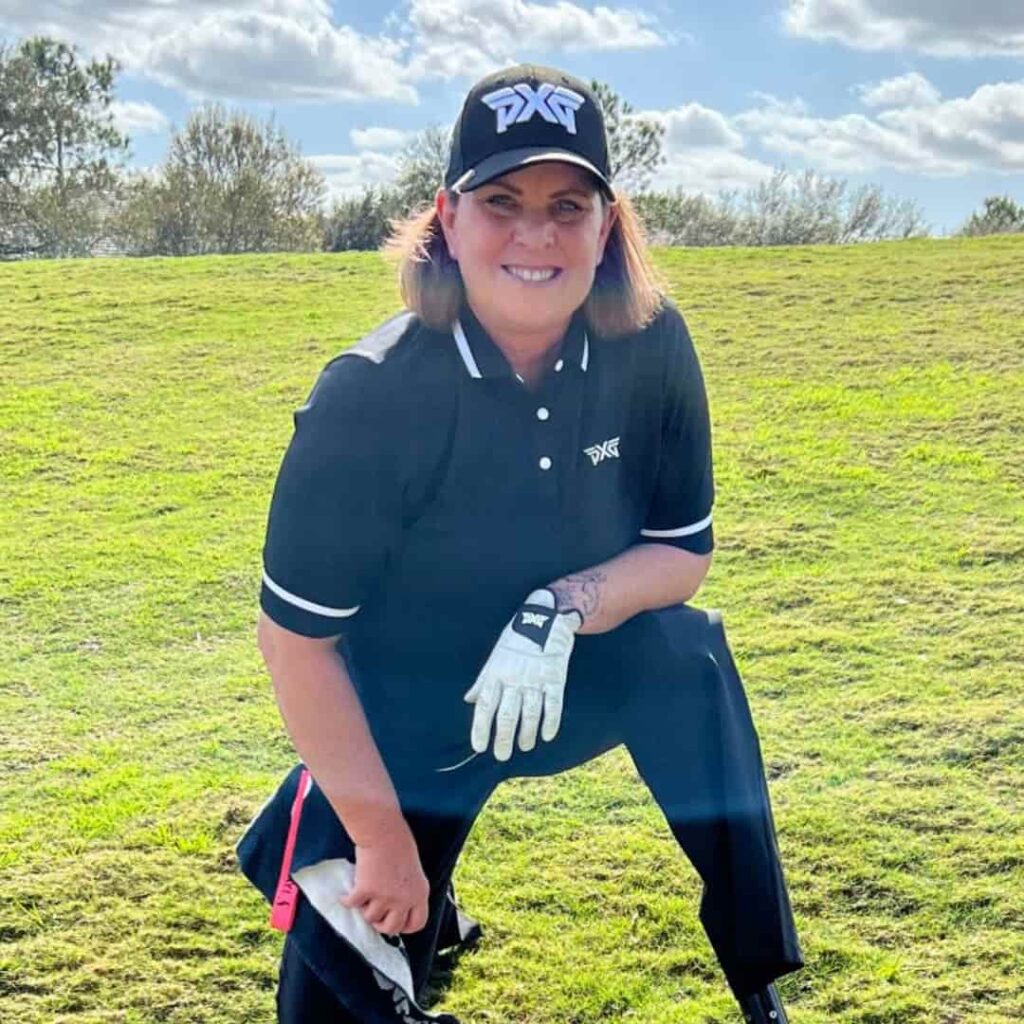 Now today I have a network of fellow golfers through tournaments, etc. that I get to play with and compete both with and against. My goals have always been the same … "just don't embarrass yourself." I often fail at this because golf is ever changing and ever challenging, but it is always fun and a positive outlet for me." -Davey Lind
Chad believes veterans are getting more and more access to the game of golf through different organizations and from seeing other wounded veterans play the game in different outings and tournaments. "Golf scrambles are a great fundraiser for many different organizations, but they also introduce so many people to the game of golf, and from there so many people become hooked. I have been fortunate to work with many organizations that introduce veterans to golf including Feherty's Troops First Foundation, Salute Military Golf Association, Tee It Up For The Troops, Semper Fi Foundation, Homes for our Troops, Fairways for Warriors, and the PGA Hope program. I have also begun my own program called Moving Foreward which helps get anyone with a disability into the game of golf."
Take a moment to check out Moving Foreward, an amazing non-profit that shares the values PXG is honored to stand behind.
Chris encourages any veteran or active military person to check out the Helping Our Patriots Everywhere Golf program. "The HOPE program is open and free to all military and veterans and is taught by specially trained PGA professionals who have been taught about adaptive golf, as well as, received specific training on military and veteran culture with an emphasis on PTSD."
WHAT WOULD YOU TELL SOMEONE WHO IS LOOKING INTO PLAYING THE GAME OF GOLF?
"I would tell them to not get caught up on what you see on TV, etc. The people you see playing this great game have spent their entire lives getting to that level. Just go out, drink a few beers, and enjoy the game!" -Chris Nowak
In Davey's experience golf is the ONLY game you can do for the rest of your life. "The handicap system makes competition relevant to the individual, so no matter who you go up against, you can compete." It is the hardest game he has ever played, so he believes that if you are competitive or want a challenge, you should start playing golf … today.
Chad recommends that you be patient with your progress, as he is sure you will never regret getting involved in the sport.
"Golf is so frustrating at times, but through practice and playing often you can easily track your progress, and it always keeps you coming back. When you have a bad day, or when you're just beginning, or if you think you aren't very good, one good shot is all it takes to feel satisfied and that feeling keeps you coming back for more."
If all the above is true (which for the record, PXG believes it is), then why not pick up the game of golf? Everyone can use a day of relaxation, and if that is what a day on the course leads to, then we will see you out there. So, pick up a golf club, grab your favorite drink, and go see what this wonderful, crazy sport is all about.
ABOUT PXG FOR HEROES
PXG founder and owner, Bob Parsons knows all about the benefits of golf. Bob is a U.S. Marine Corps Vietnam War Combat Veteran and a recipient of the Purple Heart Medal, Combat Action Ribbon and Vietnamese Cross of Gallantry.
PXG for Heroes™ is designed to provide the world's finest golf equipment and gear to our nation's finest – the men and women of the United States Army, Navy, Air Force, Marine Corps, Coast Guard, Law Enforcement, Firefighters, and EMTs.
To enjoy special pricing on PXG clubs, apparel and accessories – get securely verified for the PXG For Heroes Program through ID.me Once verified you'll be welcomed to the PXG for Heroes program where you can begin shopping!